PUMPKIN SPICE MANIA
The PSL frenzy is more than a fad

Although McCormick, the world's largest spice seller, introduced the "pumpkin pie spice" blend to America in 1934, the flavor frenzy didn't begin until Starbucks debuted the pumpkin spice latte in 2003. In the decades since, pumpkin spice has grown into a $511 million industry as of 2019, according to Nielsen data, and pumpkin spice product sales have grown about 47% in the last five years. Today, we're taking a look at the craze that has been largely fueled by young consumers.

PUMPKIN SPICE LATTE SEASON
Starbucks' pumpkin spice latte, or "PSL," for short, has quickly grown to be the company's most popular seasonal drink, with the #PSL hashtag on TikTok racking up more than 3.7 billion views. Though the beverage has been around for more than a decade now, enthusiasm for the product seems to grow every year. When Starbucks introduced its fall drink menu on August 30 across the U.S., it saw foot traffic rise nearly 26% and the chain experienced its "highest, record sales week in our 51-year history," according to Howard Schultz, interim CEO of Starbucks.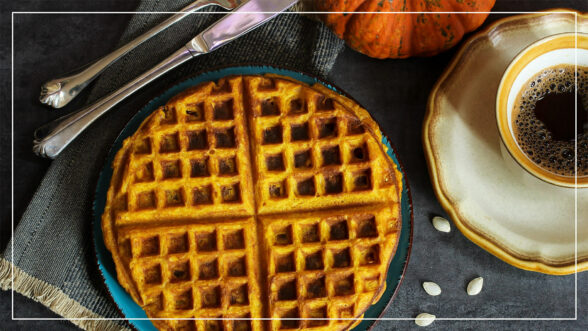 PUMPKIN SPICE SNACK MADNESS
Perhaps the only retailer who gets more excited about pumpkin spice season than Starbucks is Trader Joe's. Since they're a private company, they don't disclose sales data – but the pace at which their fall novelty snacks sell out indicates that PSL season is very good to the grocer. This year, they have pumpkin spice coffee, pumpkin spice hummus, pumpkin spice waffles, pumpkin spice espresso beans, pumpkin flavored Joe-Joe's (Joe's take on Oreos), even pumpkin spiced pumpkin seeds. But it's not just Trader Joe's. Amazon sells more than 138,000 pumpkin spice items on its site, including pumpkin spice oat milk, pumpkin spice peanut butter, pumpkin spice Goldfish crackers, and pumpkin spice dog treats.
PUMPKIN SPICE…COCKTAILS?
At this point, many pumpkin spice launches feel more like a gimmick than anything: Hefty's pumpkin spice trash bags, Massage Envy's pumpkin spice spa treatments, and Angelic Diamonds' pumpkin spice engagement ring (yes, really) are just a few examples of the PSL trend gone too far. But pumpkin spice cocktails, which seem to be everywhere this year, actually make sense. Booze brands and bars are constantly trying to engage with young consumers (who are generally less interested in alcohol than previous generations), and PSL drinks could be an effective way to get young – but still 21+ – people excited.