MAKEOVERS FOR MEN
MEN'S GROOMING PULSE

The global men's personal care market grew from $58B in 2022 to $63B in 2023, in part due to the 6 in 10 Gen Z men expressing increased interest in purchasing male cosmetics and grooming products. With the rise of aesthetically-focused social media content, younger generations of men are more interested in actively addressing their lewk. Even the New York Yankees, an institution that's over 100 years old is getting in on the act with their first ever "Official Men's Grooming" partnership with Gillette. Clearly, the industry is seeing this younger generation coming through with a completely different attitude regarding gender fluidity and masculinity. In the last few months, there's been a handful of buzzy discourse in this space as brands and beauty methods try to claim their market share. Here are three areas that have caught our eye.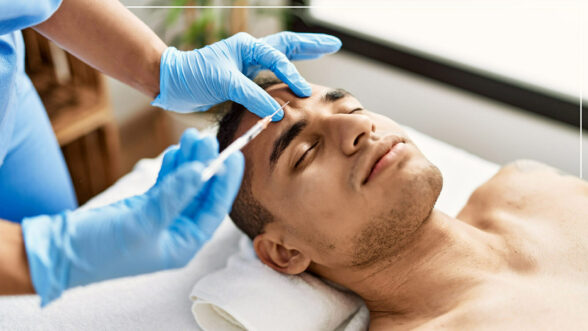 THE BROTOX BOOM
Historically, Botox and fillers have been geared towards women, but the beauty landscape is quickly changing to include more men. Last year, men's lifestyle bible GQ published their Guys Guide to Botox, supporting Cassandra's insight that 64% of Gen Z men have started doing beauty/ grooming habits more personally tailored to their individual needs. This "brotox boom" is now making waves among men of all ages– and TikTok is home to it with videos on the topic garnering over 16M views. Beauty experts suggest that the trend has taken off partly due to the fact that negative connotations around Botox or cosmetic surgery for men have begun to dwindle.

THE MODERN MALE PERM
The TikTok hashtag #menperm, referring to one of the latest hair trends from the app, has amassed more than 22M views. Once popular primarily among Korean and Korean American men, the coiffure has gradually expanded to include young men from other racial and ethnic groups discovering and now sporting a hairstyle that's become prominent among Gen Z: soft, fluffy waves or curls brushed forward toward the face and voluminous at the top. While, the New York Times suggests "As Gen Z navigates the pandemic world, this tuft of fluffy hair perched on one's head is surely one way to peacock" –and certainly there's a bit of that. But we also see it as just another way Gen Zs are experimenting with self-expression.

STRYX & SHARK TANK
Having featured last year on the popular entrepreneurship reality TV show Shark Tank, and now with over 326K followers, Stryx is one of the most followed men's grooming brands on TikTok. On the platform, the brand's content centers around "get ready with me" (GRWM)- style videos that feature Stryx products in addition to product demonstrations and explanations from co-founder Jon Shanahan, all with a focus on pioneering men's cosmetics.