TikTok Is the New Michelin Guide
Creators are the future of restaurant reviews

Has TikTok replaced the Michelin Guide? Not quite yet, but many industry insiders believe the time-tested authority – as well as more modern review platforms like, say, Yelp – could be threatened by TikTok, where millions of creators-turned-dining-critics have flocked to share their reviews of hotspots, underground favorites, and everything in between.

THE VIP LIST
Described by VICE as the "Regina George" of food reviewers, The VIP List has quickly shot to the top of TikTok's own food chain. The account, which is co-run by childhood friends Maeghan Radice and Audrey Jongens, has garnered more than 400,000 followers and 18 million likes on the app. While their on-camera personalities are akin to an exaggerated "mean girl"-esque stereotype, the two are consummate professionals when it comes to their work. By taking advantage of the controversy the account generates, Radice and Jongen have managed to create a unique online presence, with its co-hosts netting an annual income of over six figures.

DANNY GRUBS
Danny Kim is a TikTok food influencer, boasting 3.7 million followers on his account @DannyGrubs. Formerly an engineer, Kim switched careers following the success of his blog on the DC food scene (called "Eat the Capital"). Over the past year, Kim's account has gone viral with his chef challenges, such as, "Can you make a gourmet meal with McDonald's chicken nuggets?" According to Kim, his online influence translates directly into increased foot traffic for the establishments he frequents. "TikTok searches for food bring an experience that you can't find anywhere else on the internet," Kim claims, saying that TikTok's ability to show the "full experience" gives it an edge over applications such as Google or Yelp.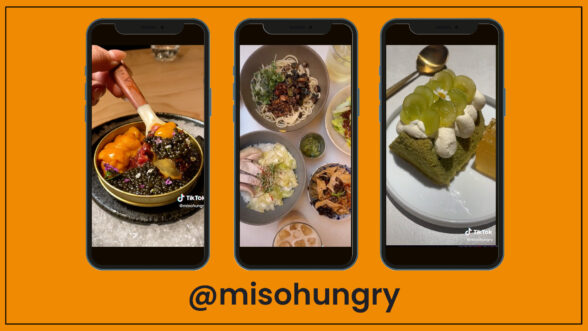 MISO HUNGRY
Run by L.A. foodie Varissa Brum, the punnily-named TikTok account @misohungry has amassed over 366,000 followers, with her more recent videos racking up hundreds of thousands of views. Brum's foodie career first began when she relocated from Albuquerque to Los Angeles; the move inspired her to create an Instagram account to document her culinary adventures. Brum has used her connections forged through her cross-platform social media presence – wherein she shares both service-y tips, like how to cook the perfect wagyu beef, as well as best-of lists, like the top places to eat in Vegas – to host collaborations and events, including Disney's California Food and Wine Festival.