A VERY VIRAL CHRISTMAS
The hottest holiday finds of 2022

This year, holiday retail sales are predicted to jump to $960 billion, according to the National Retail Federation, up from a record $889 billion in 2021. At the same time, consumers are cutting back on holiday gift buying amid higher inflation. So what are people spending on if not presents? Several hyper-viral holiday products indicate that shoppers are eager to shell out for highly specific, status items that have sparked serious demand due to social media.

TJ MAXX GINGERBREAD PILLOW
A plush, gingerbread-shaped pillow has emerged as one of the most in-demand decorative items of the holiday season. This pillow isn't a limited-edition luxury item, nor is it designer collectible. In fact, the rather unlikely status piece will set you back just $17 at TJ Maxx – if you can find it, that is. Countless TikTokers have racked up hundreds of thousands of views for sharing their adventures in successfully locating the pillow – often hidden beneath other, less coveted pillows And though there are all sorts of in-stock lookalikes on Amazon, customers are clamoring for the specific one.

T27 CHRISTMAS TREE
If the gingerbread pillow is the season's most in-demand decorative item, the "T27" Grand Duchess Balsam Fir Christmas Tree from Home Depot has emerged as 2022's status Christmas tree. Though the pre-lit artificial tree does not look immediately distinguishable from any other pre-lit artificial tree, this particular 7.5-foot balsam Christmas tree, which has 3,271 branch tips and comes predecorated with 2,250 color-changing LEDs, quickly gained a cult following. By November, it was sold out online and in store, largely due to its virality on TikTok virality, where clips devoted to the tree have garnered more than 7 million views.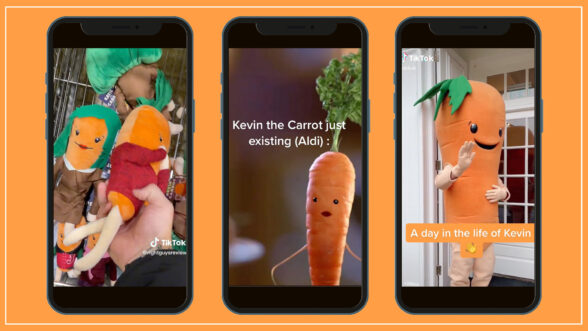 KEVIN THE CARROT
Across the pond, the supermarket chain Aldi's release of its annual Kevin the Carrot plush toy drew a queue of more than 70,000 hopeful customers and inspired thousands of TikToks from victorious consumers who successfully got their hands on one (currently, #kevinthecarrot has more than 52 million views). Though Aldi limited the purchases to two products per person, the toy quickly sold out and is now listed on eBay for six times the retail price. Though Kevin the Carrot is only available in U.K. Aldi stores, the U.S. arm of the chain has experienced its own share of virality this season; just last week, its $12.99 "sparkle dress" became an online sensation and it, too, quickly sold out.