PARENTAL ADVISORY
The pros and cons of dialing up the parent squad

Whether they're impersonating their kids or joking about the exhausting, chaotic, and totally magical experience of looking after their little humans, as uncovered in Cassandra's recent Parents On Board report, 64% of Millennial parents tell us that parenting content on social media helps them feel more supported. In fact, 69% of moms are specifically leaning into their "digital village" because valuable conversations about parenting are happening across social media. However, though mostly informative and entertaining, the occasional #momshaming trend does seem to creep in. So, ahead, let's take a look at what's currently popular with parentals.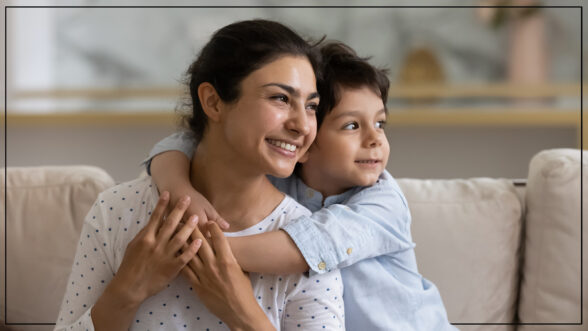 PARENTS TEACHING LIFE LESSONS
With Taylor Swift, the Barbie movie, and most recently The World Cup serving as catalysts, the zeitgeist of the summer has reignited conversations on patriarchy's negative effects on women and marginalized genders. Important discussions are being had about how it's up to all adults, not just girl moms, to do the work to prevent toxic masculinity for the next generation. One such parent leading the charge is Payal Desai, a teacher and mom of two boys, who are setting the socials alight with her video series called "No Dusty Sons" - reframing toxic masculinity mixed with laziness. Here, Desai imparts valuable life lessons from appreciating retail therapy to making sure her son writes about his feelings so that someone else's daughter doesn't have to deal with his "impulsive outbursts," conceivably, in an attempt to raise good humans.

PARENTS DECODING GEN Z
Gen Z slang can sound like a foreign language to older generations—and often, when people attempt (and fail) to use it correctly, it can be more embarrassing than flattering. However, in an effort to connect with their kids, parents are taking it upon themselves to find some common ground and stay up to speed- with some entertaining outcomes. Amassing over 61K views on his Gen Z vocab video, comedian Bob Smiley humorously plays out a scenario where a convo with his Gen Z son may go. In using the Gen Z lexicon and garnering over 456K views, dad joker Viet Vy amusingly reverses the dynamic to clap back witty retorts to his Gen Z kids.

PARENTS UNEGGCEPTABLE PRANKS
An unsettling trend labeled the TikTok #eggcrackchallange has gained prominence on the platform, amassing over 72M views, where parents deceive their children into thinking they're about to help in the kitchen, only to surprise them by forcefully cracking an egg on their heads, causing it to break while recording the child's reaction. Meanwhile, parents gaze into the camera, bursting into laughter. It seems innocent, but eggshells are pretty hard and probably hurt a bit. Parents showcasing their kids on social media has sparked much debate and even a few new laws. However, taking it a step further by subjecting them to public humiliation has ignited significant discussions, with many expressing their opinions on the topic and even creating their own spin, turning to cracking on their own forehead for more wholesome kiddie chuckles.

---
Moms control over 85% of household spending and have a combined spending power of $2 trillion. Cassandra is proud to be part of Big Village, and Big Village and Wild Sky Media have created a panel of Moms to better understand their preferences and habits. Gain access to these active and engaged Moms, discussing topics like money, career, child-raising, and more.

Looking to better understand Moms? Click here.